In the first of a series of articles on the Big Venture Challenge Winners, we introduce today Aileen McDonnell, founder of B4Box Ltd .
Big Venture Challenge is a national programme, run by UnLtd and supported by the Big Lottery Fund, to find 25 of the most ambitious social entrepreneurs in England. The 25 winners all want investment so that their enterprises can deliver social impact on a significant scale. They will each receive a unique package of financial and non-financial support to help them achieve their goals. Meet winner No 1: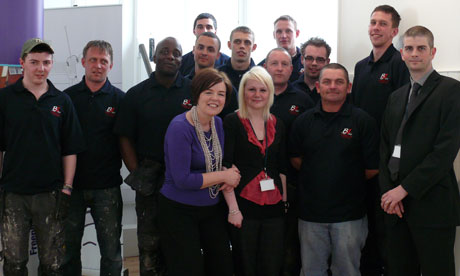 Aileen McDonnell of B4Box Ltd
Who is she?
Aileen is a housing and construction professional with more than 25 years experience in the field as a chief executive and consultant. She founded B4Box in 2008 in order to use her experience to maximise construction spend for the benefit of her local community, and other communities, across the North West.
What does her company do?
B4Box delivers standard construction services (house repair, renovation, refurbishment), but also guarantees that 80% of the workforce is recruited from unemployed people who are local (they live within 5 miles) to the work in question. The trainees include people disadvantaged in the labour market, including women, older workers, former offenders and people with disabilities.
Why was B4Box selected?
The judges and UnLtd were impressed by the impact resulting from B4′s model, not just in terms of permanent employment, but also increased local pride and ownership, and reduced theft, vandalism and environmental impacts. They were further impressed with Aileen's drive and experience in a traditionally male-dominated sector. Finally, they felt that Big Venture Challenge could play a useful role in supporting the strategic growth of the venture.